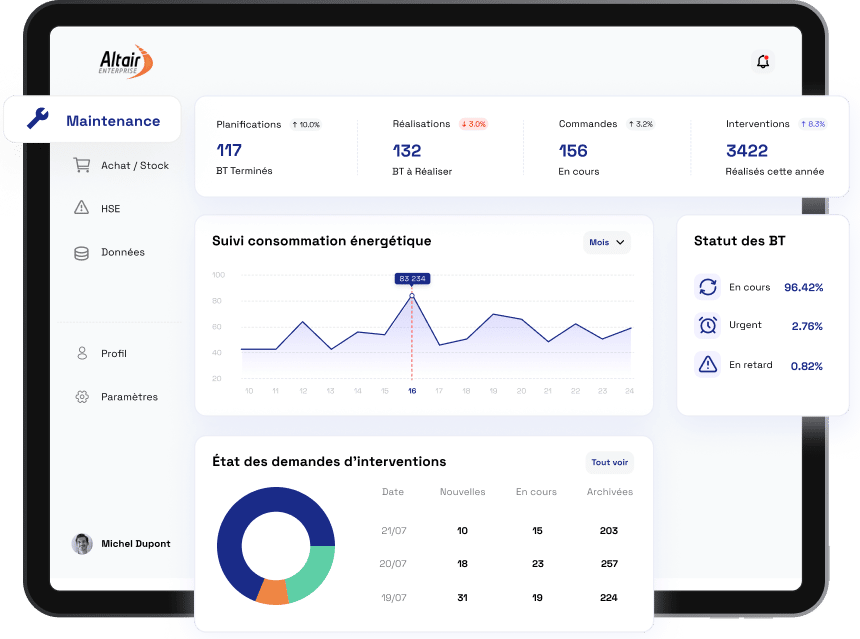 +200 companies and + 10,000 users from the industrial and tertiary sectors trust us and use our CMMS


What the ALTAIR ENTERPRISE CMMS brings

Optimization of curative, conditional and preventive maintenance
10 to 20% reduction in subcontracting management costs
5 to 30% reduction in supply costs

Increased equipment life by 20-50%
15-60% drop in inventory value
Editor of ALTAIR ENTERPRISE CMMS Software
DSDSystem has been supporting companies in all sectors of activity since 2003 in their project to deploy CMMS and QHSE software. With more than 200 customer references and projects monitored over more than fiveteen years, the company has been able to put its expertise to the test of the simplest and most complex projects.
Its simplicity and user-friendliness have convinced operators, and the power of its management tools meets the expectations of managers and technicians.

The choice of ALTAIR ENTERPRISE was mainly motivated by the ease of data exchange, the configuration options and the multilingual management offered natively by the Full Web software.

ALTAIR ENTERPRISE seduced us with the intuitive ergonomics and overall efficiency that emerge from the web application.

The CMMS that follows you in the field
Do not wait any longer to return to your workstation to enter your maintenance data.
Our mobile CMMS application allows you to work while having all the data related to your machine park in your hands: technical specifications, history, measurement points, documentation and tasks to be performed.
A powerful tool for your field teams.
All the answers to your frequently asked questions
Some of your questions have probably already been asked by others. Discover them by browsing our FAQ or contact our teams to schedule a personalized interview.
Get a demo and test our CMMS software!
Please complete all required fields followed by an asterisk (*) before submitting the form.